Disclosure of Material Connection: This is a "sponsored post." The company who sponsored it compensated me via a cash payment, gift, or something else of value to write it. Regardless, I only recommend products or services I use personally and believe will be good for my readers. I am disclosing this in accordance with the Federal Trade Commission's 16 CFR, Part 255: "Guides Concerning the Use of Endorsements and Testimonials in Advertising."
The most wonderful time of the year is upon us … holiday season! While Christmas is the icing on my holiday cake, Thanksgiving is pretty sweet too. Now I'm going to tell you a secret that might shock some people … I haven't been home for Thanksgiving in about 5+ years. What the what?! I know, I know, what a terrible daughter/sister. Seeing that my family lives in Michigan and I live in Boston, visiting for a long weekend just isn't the most practical. But then, holidays aren't really practical, are they?
Well it's a new year, and that means it's time for a new plan. Drum roll, please …. I'll be visiting my family in Michigan for Thanksgiving. While their town isn't the most exciting, I am excited to see everyone and to celebrate my sister's 16th birthday with her. It will be great because I can drink all the wine I want and she can drive me around to all of the places I want. Muahahaha.
I actually don't think we'll have time to make a turkey this year because of some early-morning obligations, I am dead-set on having the sides I grew up with. I can't imagine Thanksgiving without green bean casserole, "orange blossoms," mashed potatoes and "derby pie." The quotation marks denote fancy-pants Bassett recipes, which I can't share because they wouldn't be secret. And because I actually don't know them by heart/I don't have the recipes on me.
I'm also excited to pick my Secret Santa-ee in person this year. Since I'm one of 7 children, we do Secret Santa so that the kids (especially the younger ones) aren't burdened with having to buy presents for everyone. Only my parents have to do that … it's what they get for having 7 kids! The last five years, my dad has picked my Secret Santa-ee for me, which is not very exciting.
Plus, since I've been attending Thanksgiving at my boyfriend's family and my extended family's houses these past 5 years, I haven't felt at liberty to go to town with the table setting. I once got grounded for sassing my dad about him wanting to use plastic cups for Thanksgiving dinner. What kind of low-class joint is this, really?! I think I'll take the liberty of pulling out the nice plates and glasses, and who knows, maybe I'll even dig up some seasonal center pieces. If I can't find any at my parents, I can scoot over to Target, which is conveniently 5 minutes down the road. Who knows what I'll find – a festive ceramic turkey or some cute new place settings.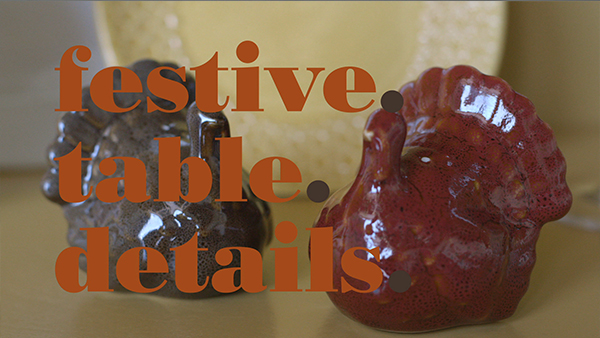 What is your idea of the perfect holiday?
Photos: Target; Disclosure
Content and/or other value provided by our partner, Target.